Up 16-6 at the half, the Sutherland Seahawks scored twice more in the second to win 32-14, continuing an undefeated streak that began back in 2013 . The win secured the club's 4th straight championship and 9th overall.
Scoring four touchdowns to two, the Seahawks ran and threw the ball convincingly then backed it up with enough defence to constantly stay a step ahead of UTS. Quarterback Justin Whiting was named game MVP and co-League MVP. He ran for 1 touchdown himself and threw 2 more to tight end Jake Wedesweiler.
Just 7 starters returned from the 2015 team, new-comers joined the program to become starters and key contributors , some stepping up from the Seahawks Junior competition giving the team an average age of just 16.7 on offence and 16.9 on defence. Head Coach Jason Lambropoulos also stepped up into the new role in 2016 taking over from brother Christos.
Back up Running Back Nick Predkowski started the game and had a key rushing touchdown to begin the second half and stretch the Seahawks lead to 24-6. The 2 point conversion put the Seahawks up by 3 scores and in reality iced the game.
5 sacks from the defence was the best return for the whole season, UTS had to play desperately to catch up through he second half and mistakes piled up. Linebacker Cooper Sly again led the tackle count, John Englezos and Blake Zumot played both ways throughout the game and each had 2 of the team sacks.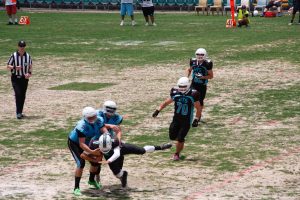 The offense ended the season with 11.6 yards per rush attempt and recorded a 3rd straight season with 50 touchdowns, mighty achievements considering the shortened season and number of changes on the roster.
The victory is testimony of the overall management of the Colts program and its ability to win with different players and different systems. The roster has turned over 100% of its players since 2013 and just 3 were part of the 2014 roster. 2017 promises to be even better as the team continues to mature and grow.