The diary blog page of Blake (#73 Baylor, Green Bay Packers #72) and Sean Muir (#74), brothers, former Sutherland Seahawk players Baylor Football offensive linemen and Blake is now on the practice squad of the Green Bay Packers. [run by the Sutherland Seahawks Gridiron Club] 
SEPTEMBER 27TH 2016
Baylor had a solid victory over Oklahoma State at home in the Bears' Big 12 opener.
Sean did not have to play. He is currently 2nd on the OL grading.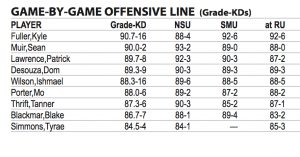 Green Bay also had a solid win in their home opener over Detroit 34-27.
SEPTEMBER 22ND 2016.
The Packers play their home opener this week against Detroit in the early game on Monday morning 3am.
Baylor plays Oklahoma State 9.30am on Sunday on the road.
SEPTEMBER 20TH 2016. Baylor over-came an at times sluggish performance to defeat Rice University on the road in Houston 38-10. Full report can be found here. Sean entered the game early on when Senior starter Kyle Fuller had to leave the field to tape an injured ankle. He was able to return followed by Sean finishing off the game in the second half. His plays can be seen below.
Also
below are the OL gradings from the media release notes for next week's Oklahoma State game.
The Green Bay Packers are now 1-1 for 2016 after going down to the Minnesota Vikings on the road in the Vikings' new stadium. Next week the packers will hold their home opener at Lambeau Field.
SEPTEMBER 16TH 2016. It doesn't hurt being the top rated OL, even if it is for just 1 game. Baylor plays Rice tomorrow in Houston. The game will be 10am Saturday morning Sydney time.
The Packers play on the road again this week, this time a division game vs the Minnesota Vikings. Pic here of Blake at practice with newly re-signed offensive tackle David Bakhtiari.
SEPTEMBER 13TH 2016.
Baylor had an uncharacteristic slow start to their second game of the season vs SMU, eventually taking the game out 40-13. A full report can be found on the Baylor Athletics page here. Sean played again as the backup Center coming on int eh 4th quarter, the offence having immediate success as JaMycal Hasty scored the last TD of the game. Highlights can be seen below.
Meanwhile the Green Bay Packers started their season with an away victory over the Jacksonville Jaguars 27-23; a full recap can be found here. Practice squad members do not travel to away games so you won't see Blake on the sideline in civilian gear until the Packers home opener vs Detroit in 2 weeks. Next week the Packers travel to Minnesota.
SEPTEMBER 8TH 2016.
So far so good for Blake at Packers practice as they prepare for Jacksonville in Round #1. You'll have to get up very early Monday morning to catch it live. You can also listen to a podcast interview with Blake at this link (go to 32:50 for the interview)
Meanwhile for Sean and the Baylor Bears, they play SMU on Sunday morning Sydney time, kickoff is 5.30am.
SEPTEMBER 6TH 2016.
Blake has been assigned #72 for the Packers. He is also reunited with former Hawai'i team mate Trevor Davis. Davis was a WR at Hawai'i with Blake in 2011 and 2012. When Blake left the UH program due to the coaching change, and moved to Baylor, Davis did the same thing and ended  up at the University of California. Incidentally of course, Cal and UH played against each other in Sydney, Australia just last week. Blake originally had a visit to Green Bay and private workout prior to the Draft. It was obvious that the organisation liked him and it is a credit to Blake's agent to keep the relationship going that led to Blake's signing to the Green Bay practice squad. The team will prepare for their week #1 opponent Jacksonville. Blake can be activated from the practice squad to the active roster at any time. Currently the 53 man Packers roster carries 8 offensive linemen; some teams carry 9. There are many rules regarding the practice squad, you can read about them here. 
SEPTEMBER 5TH 2016.
Its been a pretty crazy few days. First Baylor kicked off their 2016 season at home with a big win over Northwestern State. Sean came into the game with a few minutes remaining in the 2nd quarter and played his best football ever, having multiple pancake blocks at the point of attack.
Highlights below.
Then today Blake was signed to the Green Bay Packers practice squad. Blake had to head to Green Bay for a try out with the team and the organisation has signed him as a part of their 10 man practice squad. Maybe green is just a better colour for him!!!! More information to come over the next few days while Blake settles a few loose ends. Exciting news nonetheless!!
Packers practice squad: G. Allison C Bradford, B. Brown, R Gilbert B. Muir, L Patrick B Price H Waters J. Whitehead One spot left.

— Rob Demovsky (@RobDemovsky) September 4, 2016