The weekend of games for the Seahawks club started on Friday night with the Yellow Jackets defeating the Green Tanks 39-14, the Blue Devils were victorious 44-31.
Several players were multiple scorers. The Blue Devils' Trae Stephens had 4 TD and Daniel Mauga and Daniel McDonald had 3.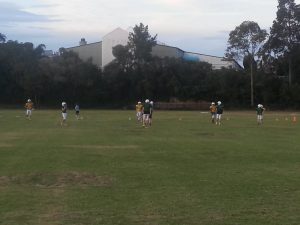 The Colts team played down at Corrimal against the previously undefeated West Sydney Pirates. The Seahawks offense rushed for 268 yards, Oli Tamoura having a career high 180 yards and 4 touchdowns. The offense adjusted to the pressure tactics of the Pirates defence, able to score regardless with over 11 yards per rush attempt.
Linebacker Christian Mann had 9 tackles and forced a fumble against one of the better organised opponents in the competition. The Seahawks made numerous big plays, long touchdowns and sacks in particular that tilted the game and kept their undefeated record and clear position at the top of the competition.
The Division One team had a tough encounter against the West Sydney Pirates, a team they have beaten only once since 2002. getting behind early with poor field position and poorer run defence resulted in a 25-6 halftime score line.
Not being first to score in the second half quickly ruled out a comeback, but consecutive touchdowns to receiver Zach Hughes including an 82 yard reception made more of a game and 44-20 final score. The Seahawks committed to spreading the ball around had 9 different players complete a reception, a club record. Defensively, Harrison Brindle had 14 tackles and added a sack.
Next week the Seahawks will play at Corrimal again this time against the Wollongong club. The Colts team kick off at 4pm, the Division One team 6pm.