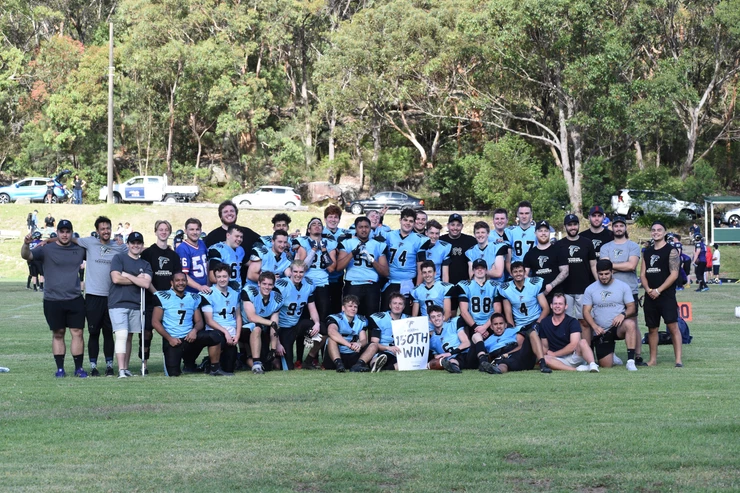 The Sutherland Seahawks snatch a bounce-back victory over the Northern Sydney Rebels, 24-6.
The Seahawks were eager to make up for last week's mistakes as the defense started fast with 2 sacks on the first drive. Linebacker Lachie Williams had a busy opening drive with 3 tackles and 1 sack.
With the offense slow to start, the Seahawks and the Rebels trade punts. The Rebels kicking a perfectly placed punt to the Seahawks' 1-yard line. The offense was up to the challenge.

The offense rattled off a 17-play drive for 88 yards, quarterback Harry Clarke threw a 4-yard touchdown to wide receiver Matt Hull to get on the scoreboard.
The Seahawks defense stayed strong and defensive lineman Daniel McDonald brought down the quarterback for his 2nd sack of the game. The Rebels failed to gain a new set of downs and turned the ball over deep in the Seahawks half.
Halftime Score – Seahawks 8 Rebels 0

The Rebels chipped an onside kick to open the second half and were able to regather due to a favorable bounce. Linebacker Lachie Williams wasn't about to let the Rebels gain momentum, as he made his second sack of the game and a tackle for loss to end their drive.
The Rebels' defense continued to rally and play well as they picked off the Seahawks quarterback. But the Seahawks defense held strong, getting another sack and then intercepting a deep ball over the middle. Defensive back Xavier Patte recorded his first interception of his career and had 2 pass deflections on the day.
Quarterback Harry Clarke did it himself the ensuing drive with two long runs, including the 19-yard touchdown scramble. Tight End Mitch Sawyer caught his second 2PT conversion of the game, the offense completed 3-3 2PT conversions on the day.
Linebacker Ethan Scott got his name on the stat sheet after getting a sack to end another Rebels drive. The defense recorded 6 sacks on the day, a season-high performance.
The Seahawks offense drove the field to put the dagger in the Rebels with a touchdown run by running back Steven Gamu, his 8th of the season.
The Rebels marched the field during the remaining two minutes and scored a consolation touchdown.
The Sutherland Seahawks victory will go down in club history, as it was their 150th Colts win. A big congratulations to past and present players, coaches, and Seahawks Club President Peter Upham.
Final Score – Seahawks 24 Rebels 6
Week 10 Stat Leaders
Offense
Harry Clarke – 10/15, 61 pass yards, 1 TD, 5 rush, 58 rush yards, 1 TD, 3 2PT
Steven Gamu – 14 rush, 69 yards, 1 TD
Matt Hull – 4 rec, 36 yards, 1 TD, 1 2PT
Defense
Lachie Williams – 8 tackles, 2 sacks, 2 TFL
Ethan Scott – 10 tackles, 1.5 sacks
Daniel McDonald – 3 tackles, 2 sacks, 1 FF
Xavier Patte – 2 tackles, 1 INT, 2 PDEF, 1 TFL