The 2016 approaches for Colts and Division One teams for the Sutherland Seahawks with the opening round scheduled to begin Saturday September 3rd.
The defending 3 time champion Colts team will start its title defence against the North Sydney Rebels at Darling Street Park, Greystanes at 11.30am. The game will represent the first game entered in the Colts division by the Rebels club.
The Seahawks Colts team carries a 24 game win streak and return its top 3 leading receivers as well as leading rusher from 2015. The addition of 6 players graduating from the 2015 Seahawks Junior competition will also boost the roster that last year produced multiple records in both Offense and Defense.
New Head Coach Jason Lambropoulos takes over from brother Christos, whose 75% win percentage included 3 Colts championships.
The Seahawks Division One season will also kickoff with a game against the North Sydney Rebels at Greystanes. Kickoff time will be 3.30pm.
Returning from a one year hiatus to properly manage  the transition to a consolidated Colts/Division One calendar, the Seahawks team will include 26 veterans and 17 players who have won a Colts Championship. New Head Coach Christos Lambropoulos ascends from the Colts Head Coach role for 2016 and will begin his 5th year coaching. The Rebels and Seahawks have faced each other just once in Division One since the Rebels entered the competition, a 2014 season 20-6 victory to the Seahawks from Round two.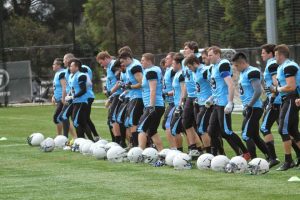 Seahawks Colts (0-0) V North Sydney Rebels (0-0) Darling street Park Greystanes 11.30am
Seahawks Div One (0-0) V North Sydney Rebels (0-0) Darling street Park Greystanes 3.30pm