The diary blog page of Blake (#73 Baylor, Green Bay Packers #72) and Sean Muir (#74), brothers, former Sutherland Seahawk players Baylor Football offensive linemen and Blake is now on the practice squad of the Green Bay Packers. [run by the Sutherland Seahawks Gridiron Club] 
October 18th
The Baylor Bears are now 6-0 for the season and enter the more challenging part of the schedule after a 49-7 victory over the Kansas Jayhawks.
Sean played the majority of the 3rd and 4th quarters, his highlights are below. Next week the Bears have another bye week then head to Austin to play Texas.

Green Bay had a tough game against the Dallas Cowboys. The Packers went down 30-16 and despite the good play of the offensive line unit the offence was unable to consistently move the ball, hang on to it, and score. Next week they will play division rivals the Chicago Bears at home on Thursday night football.
October 11th
With Baylor on the bye week, the Bears got some good rest in in preparation for Kansas and Homecoming Weekend.
Yesterday Green Bay had a handy win over the NY Giants at home 23-16 and are now 2nd in the division behind the undefeated Vikings.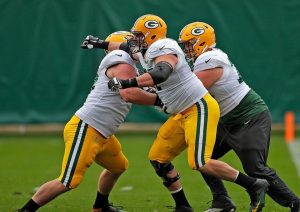 October 4th
Baylor played a heart stopping game on the road against Iowa State. The bears trailed for the entirety and kicked the go-ahead field goal as time expired. Kyle Fuller again played the whole game at Center so Sean was not required.
The Bears have the bye this week and then take on Kansas at home the following week. A full game re-cap can be found here.
The Packers enjoyed their week offend will prepare for this week's game against the NY Giants at home.