The Atlanta Falcons defeated the Green Bay Packers in the NFC Championship game and qualified for their second ever Superbowl and first since 1998.
Blake Muir, previous member of the Sutherland Seahawks will be a part of the Falcons preparation as a member of the practice squad since the middle of the year.
Articles can be found here, here and here.
Beginning his football journey as a part of the Seahawks Colts team in 2009 and led to a scholarship with the University of Hawaii. After starting 12 games in 2012 he transferred to Baylor, going on to start for 2 seasons at Left guard and Right tackle winning multiple all conference accolades and Big 12 Commissioner awards for academics.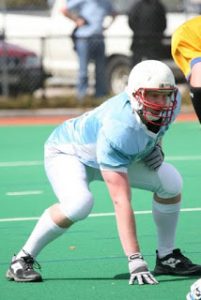 After spending time with the 49ers and Packers during his rookie NFL season, Blake has been on the practice squad of the Atlanta Falcons since the middle of the year. A victory on Monday morning Sydney time would entitle him to a coveted Superbowl ring, one of the most recognisable awards in world sport.
An online diary for Blake and his brother Sean can be found here.
It has been a full and hectic first year for Blake and he has represented himself, his family and his original club with the class and professionalism as when he first started with as a 17 year old.
The game will kick off around 10am Monday morning Sydney time Feb 6th.