The diary blog page of Blake (#73 Baylor, #69 49ers) and Sean Muir (#74), brothers, former Sutherland Seahawk players Baylor Football offensive linemen and Blake is now on the roster of the San Francisco 49ers. [run by the Sutherland Seahawks Gridiron Club] 
August 30th
The cuts have begun for NFL rosters, and as part of the rite of passage into such a competitive league as the NFL Bake was part of that group from the 49ers. He will wait over the next week to go through the process of seeing what occurs regarding practice squad signings which occur in a week's time; be it with the 49ers or another team.
Baylor is approaching their opening game, the depth chart is below. We would expect to see Sean out there as the 2nd string Center at some point in the 2nd half.
Here's #Baylor's depth chart for week one vs. Northwestern State. WR Ish Zamora listed as starting this week pic.twitter.com/zYPXkxqWLs

— Jessica Morrey (@JessicaMorrey) August 29, 2016
August 26th
Its a big week for football. Tomorrow in Sydney the University of Hawai'i plays against the University of California, and at the same time, the 49ers will play the Green Bay Packers in game #3 of the preseason.
As you can see below, Sean has returned to practice from concussion and gets ready for bailer's opening game against Northwestern State next week. That game will be played next saturday morning 8.30am Sydney time.
2) OL Sean Muir back practicing this week after missing time with a concussion. Took part in his first and the team's final scrimmage today.

— Craig Smoak (@CraigSmoak) August 26, 2016
August 22nd
The 49ers played better than expected against the Superbowl Champion Denver Broncos, demonstrating superior depth in winning 31-24.
New QB Christian Ponder iced the game with 2 touchdown drives, the 2nd, an 84 yard 4th quarter drive started behind Blake with a 24 yard run by Kelvin taylor for the longest rush of the night.

Altogether it was a successful week for Blake, he described the mid-week practices with the Broncos as some his best practice reps yet.
Over in Waco, Sean is still yet to return from concussion as the team zeros in on their opener in 2 weeks against Northwestern State.
August 18th
The 49ers are in Denver for their next preseason game and are holding two joint practices.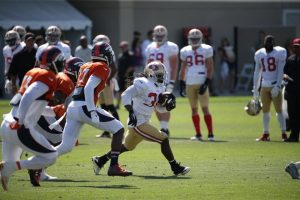 The game will be 11am on Sunday Sydney time. It will also feature Australian Defensive Lineman Adam Gotsis, the first time that 2 non-kickers have played in the NFL against each other.
August 15th
The 49ers didn't have the preseason opener that they really wanted. 2 turnovers by the offence early on thwarted scoring opportunities. Blake played Right Guard and was his usual excellent self in pass protection. The score in preseason games is never as important as going over the film and the individual performances which the coaches will no doubt go over thoroughly in the coming days. Next Sunday Australian time the 49ers play the Broncos.
Sean has sat out a few practices with a concussion and will likely return in the next 2 days. Concussions are treated much more cautiously these days and with the depth problems form the OL at Baylor right now, keeping everyone healthy for game #1 and the early part of the season is crucial.
August 11th
Lots happening today, 49ers are practicing at their old home of Kezar Stadium. Baylor released its team photo for the year.
— Doug Fertsch (@geauxgreen) August 10, 2016
The 49ers game vs the Houston Texans at home will be 9am Monday morning Sydney time.
August 5th
Baylor started its on field practices for fall camp. You can see Sean doing some long snapping on this clip.

August 4th
A day off for the 49ers today. You can see a Blake in the background of this twitter pic about fellow OL Zane Beadles.
How's your first #49ersCamp going @zanebeadles?

1-on-1 with the guard for 49ers Live: https://t.co/EtXI710oy8 pic.twitter.com/F4D9IHWGX3

— San Francisco 49ers (@49ers) August 3, 2016
August 2nd
Day #2 saw former US Secretary of State, and known admirer of the NFL's Commissioner job, Condelezza Rice attend practice and meet GM and coaches. Not much news from Blake on practice yet; things don't get interesting until pads are on and the units go opposed.
#49ers GM Trent Baalke meeting Condoleezza Rice. pic.twitter.com/RSLx6JXdAo

— Ryan Sakamoto (@SakamotoRyan) August 1, 2016
August 1st
The 49ers have begun training camp. The first on field practice was today and as per league rules the players are not in full equipment and with full contact for the first few days.
#49ers HC Chip Kelly wasted no time getting to his players. #SpotSakamoto #49ersBeastWriter #NinerFans pic.twitter.com/4T29BUZJ08

— Ryan Sakamoto (@SakamotoRyan) July 31, 2016
Day #3 will be the first padded practice and then there is a special fan day practice at Kezar Stadium on August 10th. Everything is gearing up towards joint practices hosting the Houston Texans on August 12th and the first preseason game August 14th.