The Sutherland Seahawks put together a strong team performance to stay undefeated and beat the Wollongong Mustangs 46-6.
The Seahawks weren't going to have another slow start after last weeks dismal first half performance. All three phases showed up in the first half to put on an exhibition for the homefield fans.
The Seahawks defense stood up early with an interception on the third play from scrimmage by safety Seb Riley. The Seahawks offense kept the ball on the ground with an explosive run by running back Blake Maddock who dived past the pylon for the score.
A quick stop by the defense allowed the offense to continue rolling. A 6-play drive capped off by rookie tight end Mitch Sawyer; his first touchdown of the season.
Linebacker Lachie Williams blitzed through for his first sack of the game and would help the defense get off the field quickly. Punt returner Matt Hull caught the high ball and found an alley to return the punt 61 yards for his second special teams touchdown of the season.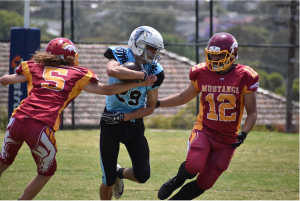 The defense saw its opportunity to score when safety Seb Riley snagged his second interception of the game. Seb was able to find space and sprint into the endzone to capture the first defensive touchdown of the year.
Another stop by the defense gave the offense another chance to score. Two nice receptions, including a sideline grab by wide reciever Matt Hull set up the offense inside the 20. Running back Steven Gamu busted a 19-yard run for his first score of the game.
The Wollongong offense returned to the field and was able to muster an 8-play drive and punch in a 10-yard rushing touchdown before halftime.
Halftime Score – Seahawks 34 Mustangs 6
The Seahawks offense returned to the field after halftime and scored on a 3-play drive, capped off with a touchdown to wide receiver Trae Stephens. The Seahawks defense jogged back on the field and safety Seb Riley intercepted his third pass of the game; a career-high day for the veteran defensive back.
With good field position, the offense took advantage and quarterback Perry Cunningham lofted a 14-yard touchdown pass to wide receiver Harry Clarke.
The game ended early during the third quarter due to low numbers and an injury concern for a Mustangs player. The Sutherland Seahawks wish the best to him and the rest of the Wollongong Mustangs team and we would like to thank them for striving to play through injuries and the heat.
Final Score – Seahawks 46 Mustangs 6
The Sutherland Seahawks move to 5-0 and face last year's champions, UTS Gators, Saturday 28th November at Neptune Oval, Revesby.
Week 7 Stat Leaders
Offense
Perry Cunningham – 9/18, 144 pass yards, 3 TD
Steven Gamu – 5 rush, 56 yards, 1 TD, 1 2PT conv
Harry Clarke – 3 rec, 53 yards, 1 TD
Defense
Seb Riley – 3 tackles, 3 INT, 1 PDEF, 1 TD
Lachie Williams – 6 tackles, 2 sacks, 1 TFL
Austin Green – 4 tackles, 0.5 sack
Special Teams
Matt Hull – 1 PR, 61 yards, 1 TD