The Sutherland Seahawks survive the heat and outlast the Nepean Ducks, 40-8.
The Seahawks were excited and focused to get back to football after the holiday break and proved they were hungry for a playoff bye.
The Ducks started fast, stealing a turnover on defense and scoring on the following drive. The Seahawks defense had a soft first drive but were adamant they would turn it around quickly.
The 'Hawks offense answered with a touchdown drive of their own. The 4-play drive resulted in a 28-yard rushing touchdown for Steven Gamu.
The defense stood up, proving the "bend, don't break" mentality as defensive back Seb Riley intercepted a deep ball after a nine-play drive.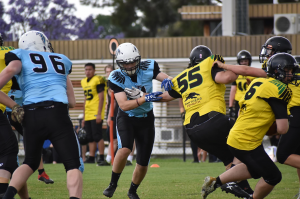 The Seahawks pounced on opportunity this game as Steven Gamu scooped up a fumbled punt and took it inside the red zone. Running Back Steven Gamu punched in his second touchdown of the day on a short run.
The offense had one more chance for points before halftime and were adamant to score. Quarterback Harry Clarke scrambled out of the pocket and found wide receiver Spencer Christlo. Spencer made a couple defenders miss and took it 62-yards on the stroke of halftime.
Halftime Score – Seahawks 24 Ducks 8
The Seahawks' special teams continued to explode. Running back Blake Maddock took a kickoff return to the house for an 82-yard touchdown.
The defense held the Ducks to a 6-play drive before the offense struck again. Harry Clarke took the ball for a 27-yard scamper and another touchdown.
The Seahawks' defense held strong picking up three more sacks and two more interceptions in the 4th quarter.
The Sutherland Seahawks finished the season ranked second on the ladder and solidified a playoff bye.
Final Score – Seahawks 40 Ducks 8
Week 12 Stat Leaders
Offense
Harry Clarke – 7/8, 100 pass yards, 1 TD, 6 rush, 62, 1 TD
Steven Gamu – 10 rush, 69 yards, 2 TD
Spencer Christlo – 2 rec, 68 yards, 1 TD
Defense
Ethan Scott – 10 tackles, 2 TFL
Seb Riley – 4 tackles, 2 INT, 1 PDEF
Will Atkinson – 4 tackles, 1 INT
Lachie Williams – 2 tackles, 2 sacks
Special Teams
Blake Maddock – 1 KR, 82 yards, 1 TD